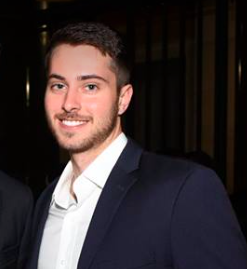 Hometown: Fort Lauderdale, FL
Alma Mater: Columbia University
Industry: Financial Services
Hobbies: Running, Basketball, Surfing, Tutoring, Blockchain Technology
Fun Fact: I'm ambidextrous
Why is education important to you? 
Unlike many members of my family, I was fortunate enough to have the support to receive a great education. I have seen first-hand how the impact of a strong education has on the lives of young people. I want to give back to those who deserve the opportunity to receive a quality education.
How did you get involved with the Children's Scholarship Fund and the Young Leader Board?
Having spent time in academically focused volunteering roles, I've learned about CSF's mission and the opportunity to have a positive impact as a member of the Young Leaders Board.
What do you hope to learn or gain from being a YL member?  
I hope to help young people reach their full academic potential and receive adequate educational access by making meaningful contributions to the organization. Additionally, I hope to build relationships with other young leader board members and the CSF Scholars.