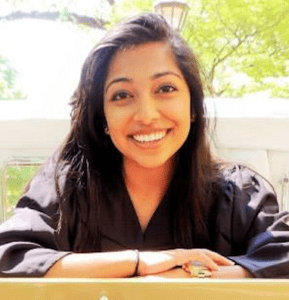 Hometown: Sugar Land, Texas
Alma Mater: Georgia Tech, Go Jackets!
Industry: Financial Services
Hobbies: Krav Maga, Performing Opera, Wake Boarding, and Hip Hop
Fun Fact: I've lived all over the world, including in Saudi Arabia and Malaysia!
How did you get involved with Children's Scholarship Fund and the Young Leaders Board?
Being in New York, it's easy to slip into spending all our time with people living the same social, professional, and socioeconomic circles as ourselves. After all, there are millions of us! There is something magical, however, about spending time with people from vastly different walks of life, even if they are just a couple streets down. That's how the search started, and like any other determined millennial, I took to one of the most powerful resources of all, the internet. I came across CSF through VolunteerMatch.org and it has been a great experience thus far.
What do you hope to learn or gain from being a YL Member?
At our deepest human level, we all crave the feeling of fulfillment. It is possible to be successful, and still not feel fulfilled; in fact, it is something the millennial generation struggles with very much — it's the reason we switch jobs constantly, looking for this idea of creating an impact. In my experience, nothing in the world makes me feel more fulfilled than to give back to a cause bigger and greater than myself, to the community and mission that has given me everything I have and could ever need. This mission is the proliferation and access to quality education, and I hope that as a member, I will be able to help move this mission forward.
Why is education important to you?
Education is important to me because it continues to be the single-most powerful tool in creating opportunity in my life. Education is what brought me to this city; it is what allows me to pursue my ambitions, live a happy life, and feel fulfilled. I believe every student can be empowered by this kind of educational opportunity, and this is why I am part of this organization. With each individual student that we are able to provide with a scholarship, we can be assured that we are getting one step closer to helping today's youth reach their full potential.