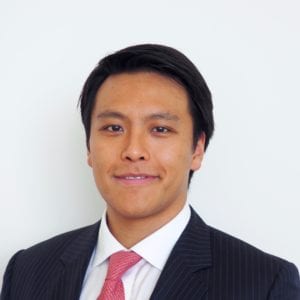 Hometown: St. Louis, MO
Alma Mater: Washington University in St. Louis, Olin Business School
Industry: Finance (Private Equity)
Hobbies: Snowboarding, weightlifting, traveling
Fun Fact: Raymond played table tennis professionally in high school and was on the U.S. Junior National Team in 2009
How did you get involved with Children's Scholarship Fund and the Young Leaders Board?  While in between jobs, after having finished three years in investment banking, I wanted to take some time and find ways I could contribute back to the community and become more involved in NYC.  Children's Scholarship Fund aligned perfectly with my interests of promoting better education across the country, and the Young Leaders Board further provided an opportunity to meet and connect with other young professionals in the city.
What do you hope to learn or gain from being a YL Member? I hope to not only leverage my skills/expertise to make meaningful contributions to the organization but to also gain valuable leadership, organizational and developmental experiences that will be translatable to my professional career.
Why is education important to you? Having spent most of my life in St. Louis / the Midwest, where the education system is generally not as robust as it is on the coasts, I saw firsthand the impact that a lack of educational opportunity has on the development of a community's youth. I was lucky to be admitted to a great college and get a job in NYC, but many of my peers growing up in St. Louis did not have these opportunities, often due to financial reasons. Thus, I want to contribute towards making a top-notch education available to all children, as that is truly the foundation of every person's future.