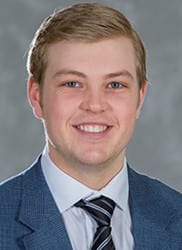 Hometown: Deerfield, Illinois
Alma Mater: Vassar College (Class of 2017)
Industry: Financial Services
Hobbies/Interests: Golfing, Reading, Chicago Sports
Fun Fact: I played Division III lacrosse at Vassar.

How did you get involved with Children's Scholarship Fund and the Young Leaders Board? Throughout high school and college, I was involved in a number of different charity organizations that worked to benefit the local community. It has always been a passion of mine. Upon graduation, I was lucky enough to get introduced to the Children's Scholarship Fund by a co-worker.

What do you hope to learn or gain from being a YL Member? I hope to be able to make a difference in the local community and help to change the lives of a number of children. It is great to be a part of a group of like-minded individuals who all want to contribute to a great cause. I hope to also engage and connect with the students on a personal level.

Why is education important to you? As a child, my parents stressed the importance of education to me. I have truly taken this to heart and have been lucky enough to get a great education. It is one of those things that can have a tangible impact and directly change the trajectory of one's life. Educational disparities in this country are vast, but helping someone get on the right path can make a huge difference in his or her life.