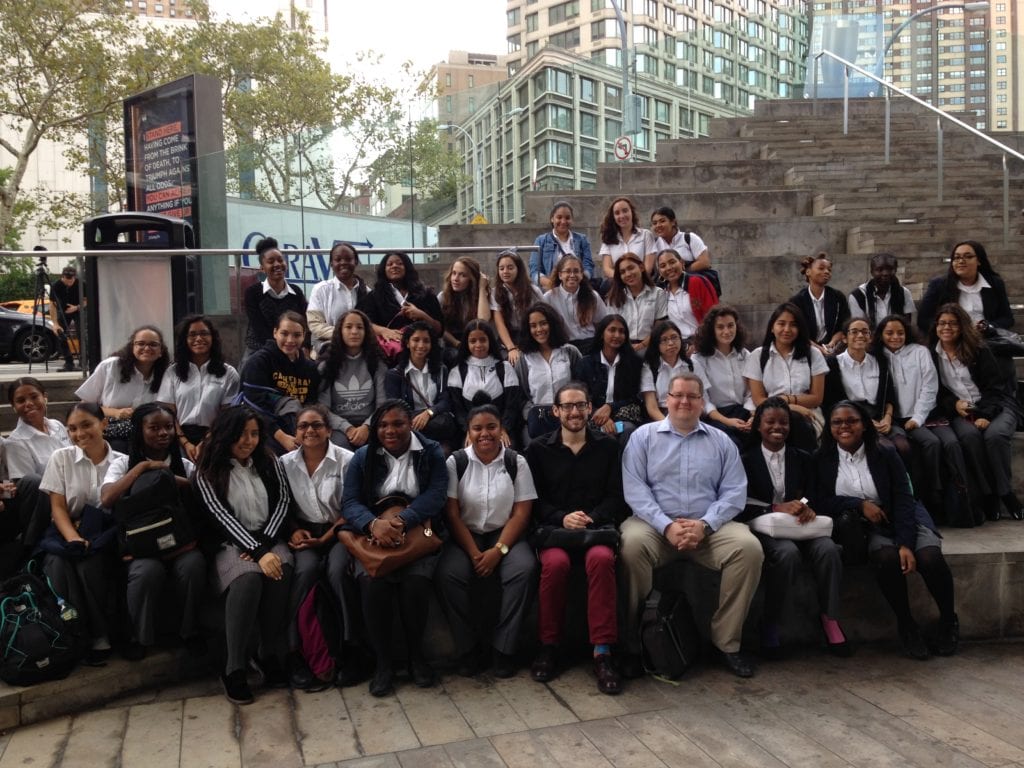 Thanks to a generous CSF donor, seventy New York City high school students from Cathedral High School and St. Jean Baptiste High School, many of them CSF alumni, were privileged to attend the Oslo Freedom Forum yesterday.
Held at Lincoln Center's Alice Tully Hall, the Forum brought together an amazing array of human rights supporters and activists from all corners of the globe, including a former political prisoner from Iran, a Russian freedom fighter who survived two poisoning attempts, and a Venezuelan violin player who uses music as a peaceful protest. Even in this cosmopolitan group, the high school students added a burst of energy to the proceedings.
Perhaps the most memorable presentation was by Ji Seong-ho, who told the story of his family's unspeakably difficult life in North Korea and his incredible 6,000 mile journey to escape to South Korea by way of China, Laos, and Thailand.
The students (and most of the audience) were in tears as Seong-ho described how he lost part of his leg and hand after he was run over by a train while collecting coal to sell for food. After a grueling surgery without anesthesia and a long recovery during which he suffered many infections, Seong-ho defected, walking more than 6,000 miles on wooden crutches made by his father. Seong-ho ended his emotional speech by holding up his crutches, telling the group they symbolize what can be achieved if you do not give up. Today, Seong-ho runs an organization which helps his countrymen escape and broadcasts radio messages into North Korea to educate those still there.
Despite their young age and the seriousness of the forum's content, the high school students were fully engaged and moved by what they heard. The courage and strength of the human spirit shone through even as we heard about the cruelty and oppression that humans can dream up for their fellow man. One immediate takeaway was perspective on the relatively minor nature of everyday problems and challenges most of us face. One girl admitted, "I complain about walking to school sometimes, but he walked 6,000 miles on crutches." We look forward to sharing student reflections of the day in the near future.
Special thanks to all who made it possible for these students to experience such compelling and eye-opening presentations. Yesterday will be a day to remember for all who attended, and we are extremely grateful for the opportunity to expose CSF alumni to new ideas and help them think about how they can make their own contributions to human flourishing.