The President's Council is a group of CSF donors who are committed to increasing awareness of CSF and helping us chart a path to growth in the Big Apple and beyond.
The following individuals currently serve on the President's Council:
Nicole & Jonathan Brand
Arielle & Adam Brenner
Reco Charity
Jacquelyn Costas
Natalie & Jason Heim
Jocelyn & Peter Luongo
Kaitlin R. McTighe
Dave Miller
Andrew Onslow
Alex R. Rovira
Julie & Shawn Sabin
Jason Tejada
President's Council Profile
Maria Samuel
Member, President's Council Since 2018 | Member, Young Leaders Board Since 2017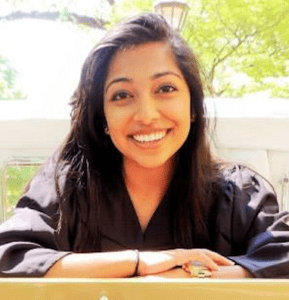 Maria is currently a Product Manager at Goldman Sachs. Prior to Goldman, she was an investment banking intern at JPMorgan Chase and founded an international community service organization. She has been a member of CSF's Young Leaders Board for several years, and is newly a member of the President's Council. Maria is passionate about expanding educational opportunity and creating partnerships between CSF and other organizations for even greater impact.
Hometown: Sugar Land, Texas
Alma Mater: Georgia Institute of Technology—go Jackets!
Industry: Financial Services
Hobbies: Krav Maga, Performing Opera, and Wake Boarding
Fun Fact: I've lived all over the world, including in Saudi Arabia and Malaysia!
How did you get involved with Children's Scholarship Fund?
Being in New York, it's easy to slip into spending all of our time with people of the same social, professional, and socioeconomic circles as ourselves. There is something magical, however, about spending time with people from vastly different walks of life. That's how my search started, and that's why I became involved with CSF.
What have you gained from being involved with CSF?
At our deepest human level, we all crave fulfillment. In my experience, nothing in the world makes me feel more fulfilled than to give back to a cause bigger and greater than myself, to the community and mission that has given me everything I have and could ever need. This mission is the proliferation and access to quality education, and as a member of the President's Council, I want to help move this mission forward.
Why is education important to you?
Education is the single-most powerful tool in creating opportunity. Education is what brought me to this city; it is what allows me to pursue my ambitions, live a happy life, and feel fulfilled. I believe every student can be empowered by this kind of educational opportunity, and this is why I am a part of this organization. With each individual student that we are able to provide with a scholarship, we can be assured that we are getting one step closer to helping today's youth reach their full potential.
Get Involved
To get involved with the President's Council, contact Michele Mitola by email or by phone at (212) 515-7108.