Founded in 2012, the CSF Young Leaders Board is a network of young professionals that supports CSF's mission and seeks to maximize educational opportunities for New York City children through fundraising, volunteering, and raising awareness about CSF among their friends, families, and colleagues. To learn more about joining the Young Leaders Board, contact Savannah Elam by email or by phone at (212) 515-7113 or click here.
The following individuals currently serve on the Young Leaders Board:
Daniel Aguirre, Cohen & Steers
University of Florida
Nicky Aimcharoen, Pretium Partners LLC
University of Rochester
Karina Altamirano, Horizon Kinetics
New York University
Lamar Ballard, Self
Hutchinson Community College
Michael Berezny, Self
Kean University
Sai Bhandari, Morgan Stanley
Rutgers University
Dillon Biddiscombe, Bank of America Merrill Lynch
Columbia University
Colin Campbell, Oliver Wyman
Northwestern University
Don & Erica Castle
Colgate University
Reco Charity, Paul, Weiss, Rifkind, Wharton & Garrison LLP
Virginia Tech; Georgetown Law School
Conor Cunnane, Axial
Loyola University Maryland
Rory Cunnane, Barclays
Bucknell University
Josue De Paz, Collectively Inc.
Santa Clara University
Bennie DeSalvo, goPuff
University of Richmond
Katherine Ewell, Haven Life
Stanford University
Eric Ferson, Marsh & McLennan Companies
Bucknell University
Christian Garrett, Caerus Investors
University of Kansas
Akshay Goradia, Stripes Group
Carnegie Mellon University
Oneica Greaves, Citigroup
Harvard Business School
Randy Habeeb, Barclays
Baruch College
Priscilla Habeeb Sankar, Morgan Stanley
Pace University
Kevin Heller, Point72 Asset Management
Amherst College
Janet Jin, JP Morgan
Harvard Business School
Amit Joshi, Forensiq
Cornell University
Saba Khan, Morgan Stanley
Rutgers University
Ryan LaRue, Barings
Binghamton University
Jane Lee, Donorly
Ithaca College
Alice Liao, TIAA
Western University – Ivey School of Business
Hansel J. López, Meredith Corporation
Cornell University
Maxwell Masur, The Estee Lauder Companies
NYU Stern School of Business
Michael McGuiness, Chatham Asset Management
Wake Forest University
JT Mindlin, MediaLink
Boston College
Andres Menocal, Evercore ISI
University of Miami
Brigid Mulcahy, McKinsey & Company
University of Queensland
Kerri O'Keefe, Aetna
Quinnipiac University
Jacqueline Palma, ING Capital LLC
Vassar College
Raymond Pang, Digital Bridge Holdings
Washington University in St. Louis – Olin Business School
Roshan Patel, Hatzimemos/Libby
Vanderbilt University & The George Washington University
Katelyn Pior, Touchstorm
Pepperdine University
Cathey Price, Meltwater
College of Charleston
Hampton Quillen, Farient Advisors
Wake Forest University
Russell Reed, Notre Dame Law School
Colgate University
Hugo Rodrigues, Newbrook Capital Advisors
New York University
Alexandra Salavitch, Claro
Kings College
Maria Samuel, Goldman Sachs
Georgia Tech
Prachi Shah, First data
Rutgers University
Lindsay Slaven, KGS Alpha Capital Markets
Cornell University
Gerard Smith, BCW Global
Michigan State University
Madison Unell, Mighty
Pepperdine University
Jason Weber, OpenInfluence
Pepperdine University
Lizzy Welch, Eze Software
Lafayette College
Terry Xu, Ernst & Young
New York University
Dan Yu, Sterling Investment Partners
Wake Forest University
Liliana Zapata, FullScreen Media
Hunter College
Samantha Zeiss, Nielsen Sports & Entertainment
Dartmouth College
SPOTLIGHT ON YOUNG LEADERS BOARD MEMBER ANDRES MENOCAL
Andres is an Equity Research Associate at Evercore ISI, and he previously Co-Chaired the CSF Young Leaders Board, advising the YL Board's Events & Fundraising Committee.  Prior to Evercore, he was a Corporate Finance Associate at JP Morgan and an Analyst at AIG before that.  Andres has been a member of the YL Board for over three years.  Every year, he bikes more than 400 miles from New York City to Montreal, Canada to raise money for CSF scholarships!  He is passionate about helping families in need access a quality education for their children and advancing CSF's mission through innovative fundraising.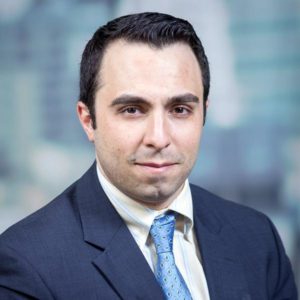 Hometown:  Frederick, MD
Alma Mater:  University of Miami
Industry:  Finance – Equity Research – Energy
Hobbies:  Riding my road bike, listening to deep house music, playing ping pong
Fun Facts:
I've ridden my bicycle from NYC to Montreal, just using Google Maps, with no prior experience long-distance biking.
I'm able to recall the year, and sometimes month, when a movie or song was released, going back to the early 90s—it's a fun party trick and useful at trivia nights.  (Fun fact: Ace of Base's "I Saw the Sign" came out in 1993!)
My great-great grand uncle was President of Cuba from 1913 to 1921.
How did you get involved with Children's Scholarship Fund and the Young Leaders Board?
I spent a number of years volunteering for New York Cares and led a Saturday workshop where we taught older folks how to do the basics on computers.  That was very rewarding for me, especially the leadership experience.  I also spent a couple of years as a volunteer English tutor for the English-Speaking Union in NYC—it was phenomenal to see the students' grasp of the English language grow over time.  When I was looking for a new way to volunteer, a friend and former YL Board member connected me with CSF.  I liked the concept, and it provided a myriad of ways to get involved and give back, while allowing you to expand your network with like-minded professionals.
Why is education important to you?
I'm a big believer that everyone is born with a "tabula rasa", or blank slate, in this world, in terms of cognitive ability.  Sure, you may not be able to play in the NBA if you're vertically challenged or become an airline pilot if you have bad eyesight, but education has always been one of the great equalizers in the playing field that is life.  You can literally teach yourself how to dribble a basketball, fly an airplane, start a business from scratch, or play the banjo, all from continuously obtaining knowledge and applying it in the field.  It's powerful stuff.  I can't stand the idea that someone with less access to a good education would be deprived of that opportunity to "level up," if you will.  That's why I believe in education.  It puts the toolkit in the hands of anyone willing to better themselves and their stature in life.  That's why I'm honored to help out the Children's Scholarship Fund.
What is your favorite part of being involved with CSF and the Young Leaders Board?
Hands down it's got to be the fundraising events we put together.  It's a frenetic rush across the finish line to 1) coalesce ideas from the other YL Board members, 2) find the right venue, 3) develop promotional materials, 4) monitor ticket sales, and 5) engage folks to get involved.  In the end, we meet or exceed our goals because this is a committed group of people that genuinely wants to give back.  Best of all is the feeling of accomplishment, and truly knowing you had an impact—giving underprivileged children the opportunity to receive a quality education they need and deserve.
Get Involved
Connect with the Young Leaders on Facebook and Instagram!