Founded in 2012, the CSF Young Leaders Board is a network of young professionals that supports CSF's mission and seeks to maximize educational opportunities for New York City children through fundraising, volunteering, and raising awareness about CSF among their friends, families, and colleagues. To learn more about joining the Young Leaders Board, contact Kurt Faulhammer by email or by phone at (212) 515-7106 or click here.
The following individuals currently serve on the Young Leaders Board:
Fred Akansu, Fundation
NYU, Universtiy of Chicago
Katie Allen, Morgan Stanley
University of North Carolina at Chapel Hill
Michael Berezny, Self
Kean University
Kyrah Brown, Morgan Stanley
Hugo Buist Rodrigues, Newbrook Capital Advisors
New York University
Donald & Erica Castle
Colgate University
Vanessa Chan, IL Makiage
Northeastern University
Reco Charity, Paul, Weiss, Rifkind, Wharton & Garrison LLP
Virginia Tech; Georgetown Law School
Rishabh Chatterjee, S&T Analyst
Carnegie Mellon University
Francis Conolly
Antoine Crépin-Héroux
Conor Cunnane, Axial
Loyola University Maryland
Clay Curran
Hayden Edelson, JP Morgan Chase & Co
New York University
Josh Farkas, GoldPoint Partners
University of Michigan
Abigail Fossaceca, JP Morgan
Villanova University
Sarah Foster, Alliance Bernstein
Columbia University
Ximena Garcia, MediaMath
University of Connecticut
Christian Garrett, Caerus Investors
University of Kansas
Priscilla Habeeb Sankar, Morgan Stanley
Pace University
Graham Helgans
Kevin Heller, Point72 Asset Management
Amherst College
Tomika Hendricks, New York City Cyber Command
Temple University
Janet Jin, JP Morgan
Harvard Business School
Nick Johnson, AIM13
Vassar College
Jane Lee, Donorly
Ithaca College
Jiaying Li
Maxwell Masur, The Estee Lauder Companies
NYU Stern School of Business
Sanchay Mathur, Credit Suisse
University of Wisconsin, Madison
Andres Menocal, Evercore ISI
University of Miami
Shivani Mulji, Global Health Corps, Inc.
New York University
Jacqueline Palma, ING Capital LLC
Vassar College
Trupti Patel, Friedman LLP
SUNY Stony Brook
Henry Senkfor, EY-Parthenon
Dartmouth College
Nicole Serrato, CSF
City College of New York
Prachi Shah, First data
Rutgers University
Faizal Sheriff, Morgan Stanley
Baruch College
Emily Soong, WILL LANE Athletics LLC
Carnegie Mellon University
Nick Spavacento
Stephan Thevalingam, KPMG
The University of Texas at Austin
Ervis Vukaj, Adams Street Capital
University of Rochester
Michelle Wang, The Carlyle Group
Cornell University
Katelyn Weber
Jason Weber, OpenInfluence
Pepperdine University
Terry Xu, Ernst & Young
New York University
Dan Yu, Sterling Investment Partners
Wake Forest University
Samantha Zeiss, Nielsen Sports & Entertainment
Dartmouth College
SPOTLIGHT ON YOUNG LEADERS BOARD MEMBER JOSUE DE PAZ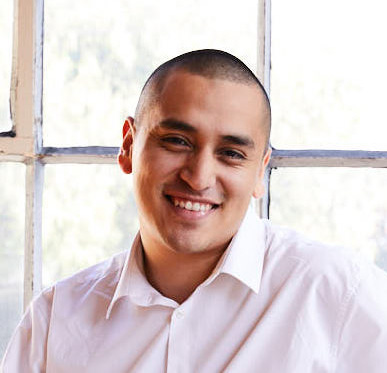 Hometown: Los Angeles, CA
Alma Mater: Santa Clara University
Industry: Social Impact
Hobbies: Sports, volunteering, reading, traveling
Fun Facts:
I have a goal of visiting every MLB baseball stadium – so far, I'm at 11/30!
I used to hate spicy food until my wife convinced me to try again. I'm working on it!
One of my bucket list items is to be an extra in a movie one day.
How did you get involved with Children's Scholarship Fund and the Young Leaders Board?
I got involved with the Children's Scholarship Fund while looking for opportunities to get involved in the community. I had previously worked with children while living in Texas and California, so I looked for something similar, where I could make an immediate contribution and pass on knowledge from my own experiences in school and in my career. I was also looking to find a network of like-minded individuals passionate about paying it forward.
Why is education important to you?
Education has always been incredibly important to me. I was fortunate enough to earn scholarships for high school and college and therefore understand the tremendous impact they had in allowing me to access new opportunities. Everything I was able to experience was thanks to the generosity of others. I'd like to pay it forward so that others have the same opportunities to excel and follow their passions.
What is your favorite part of being involved with CSF and the Young Leaders Board?
My favorite part of being involved with CSF is having the ability to make a direct impact on someone's life through the initiatives that CSF hosts throughout the year. The events bring together folks in all kinds of industries which allows students to get perspective on potential careers they could pursue. YLB is also great because you get to know some of the great people that work with and for CSF!
As we continue to learn and work from home during the Covid-19 crisis, what have you learned from your own quarantine experience? Do you have any advice for CSF Scholars and CSF alumni who are in high school and college?
These are unprecedented times where we're all trying to figure things out as they happen. Take it day by day instead of trying to plan your entire life right now. No one really knows what's going to happen next and that's okay. What matters is our health, both physical and mental. Make sure you're taking time to do things that you enjoy and to really reflect on what it is you want to do with your career or your future – combine what you're good at with what you're passionate about. That being said, your dream career might not always be easy to attain. Even if you start in a role / major that you're not totally passionate about, you can always pivot – I've moved from financial services, to advertising, and finally found that the social impact space was where I wanted to be. It took time to figure out, but along the way, I was able to pick up transferable skills that helped me position myself for the future.
Get Involved
Connect with the Young Leaders on Facebook and Instagram!