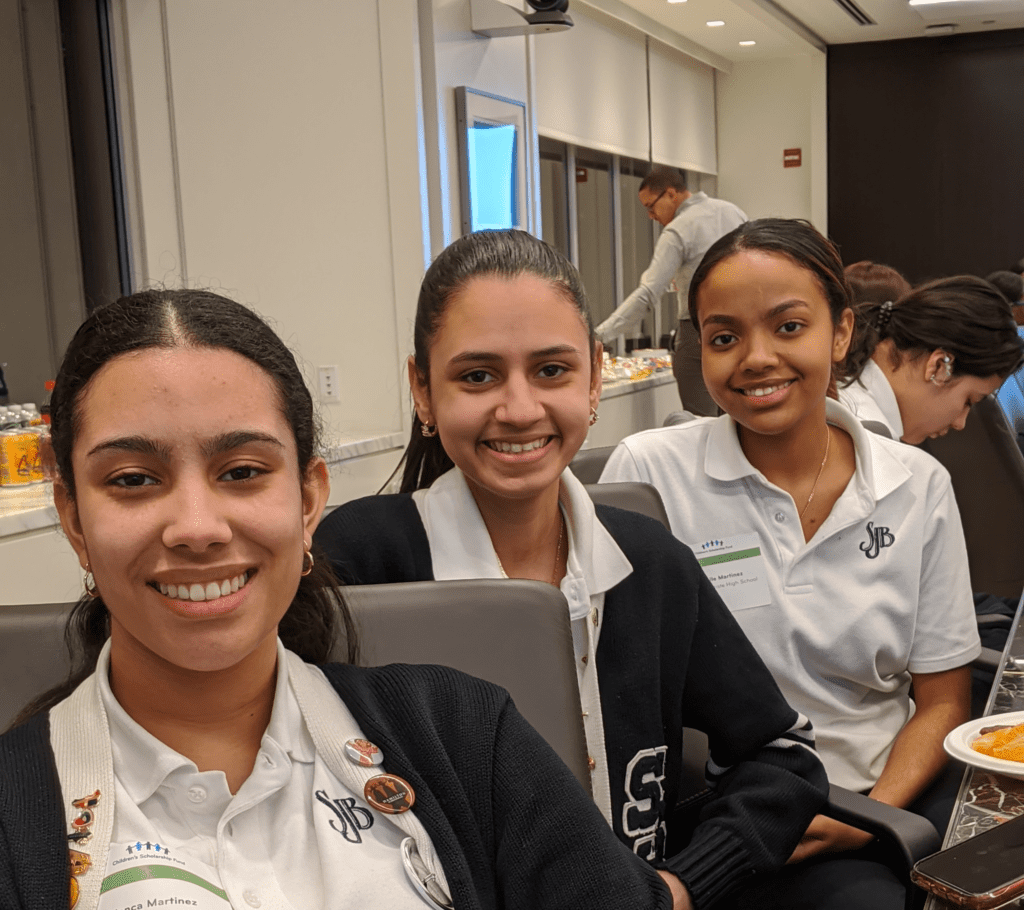 Chealsy, Gisselle, and Vianca grew up within blocks of one another in Washington Heights. While attending Incarnation School, they realized they were all CSF Scholars and have been best friends ever since.
Now seniors at St. Jean Baptiste High School, the girls credit the foundation they got at Incarnation with preparing them well for high school. Vianca shared if she could speak to a CSF donor, "I would say thank you. Receiving help towards my education has encouraged me to work hard on the things I set my mind to." Chealsy added, "Without their help, I would have never been able to receive the excellent education I got in elementary school, and I would have never been connected to my friends who also received help from CSF!"
Moving to remote learning amid the pandemic has been challenging.  As Chealsy shared, "It has been difficult to adjust to the idea that memorable events such as prom and graduation have been canceled. Luckily, my school has been doing everything in their power to help us with the transition."
The stay-at-home order has replaced college tours with virtual tours, and brought extra financial worries for the girls and their families. However, they are determined to focus on the positives, including teaching themselves new skills and the chance to spend more time with loved ones. For Vianca, being apart from some friends and family has been instructive. "It just makes me more appreciative of the time I spent with them before this situation, and I will definitely never take those moments and memories for granted," she told us.
Before the pandemic made group activities impossible, the trio took advantage of numerous extracurriculars while earning First Honors for top grades. But community service has been at the forefront of their high school experience. All three serve as officers for Glamour Gals, which brings teens to nearby nursing homes to provide manicures and other pampering services to the elderly. They've also volunteered with Dancing Dreams, helping physical therapists teach dance to children with physical and medical challenges.
This drive to give back is something the girls intend to continue as they move on to college and beyond. Chealsy will study biology at Fordham on her way to becoming a pediatrician, while Vianca wants to major in nursing at NYU. Meanwhile, Gisselle plans to study business and public relations at Baruch College and then go on to law school so she can work on public policy and help people in need.
Their interest in service also includes a desire to help make sure the next generation of students gets the same opportunities they've been given. As Gisselle said, "I aspire to become a CSF donor myself to watch how the Scholars grow." And Chealsy tells us, "You have taught me the importance of giving back, and now I take that lesson on into my future!"
Congratulations, Chealsy, Gisselle, and Vianca! We look forward to all the gifts these young ladies will offer the world as they continue on their journey!