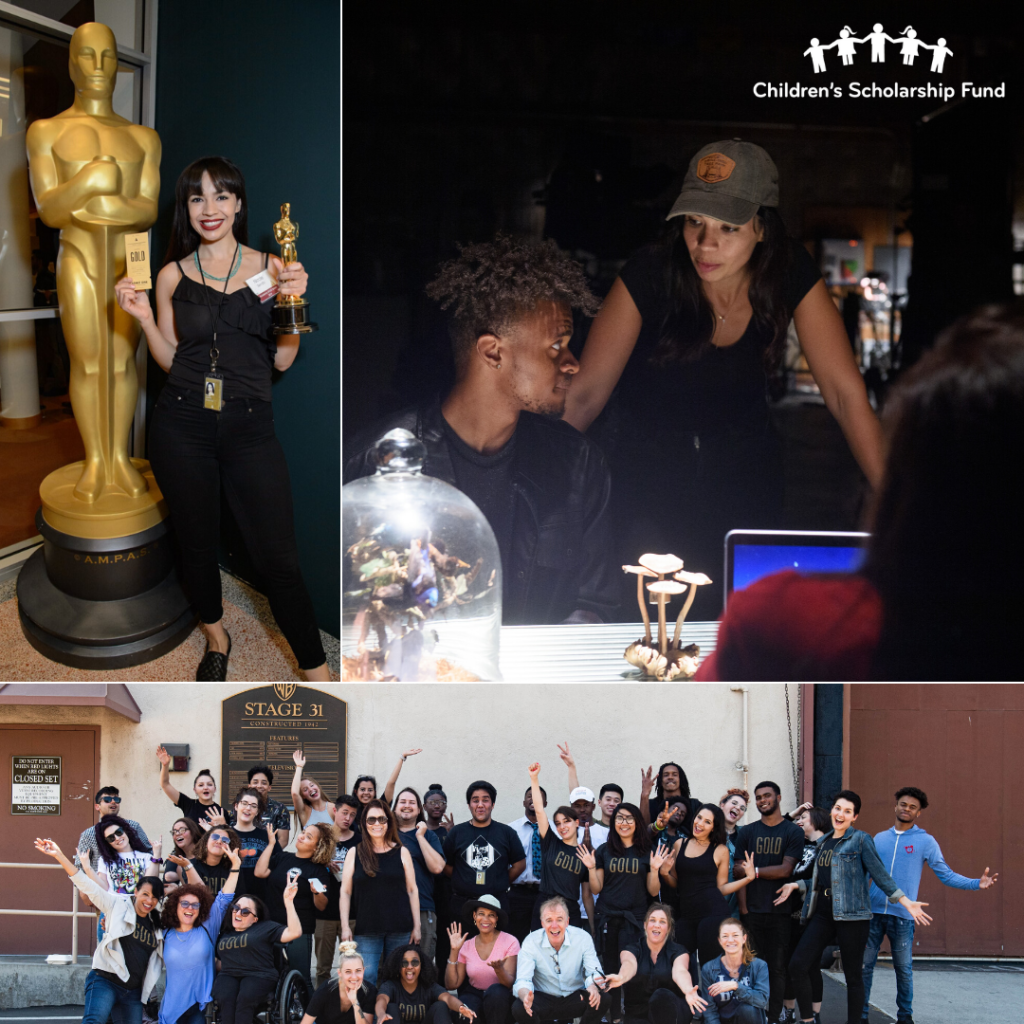 By CSF Alumna Nicole Serrato
My name is Nicole Serrato. I am a CSF alumna, and this past summer showed me that CSF is the gift that keeps on giving. I received a scholarship from CSF to attend private school for 7th-10th grades in Los Angeles.  I can honestly say the education I received from St. Thomas More Elementary School and San Gabriel Mission High School because of CSF's scholarship set a foundation of ethical values and knowledge that I carry with me today.
In the winter of 2018, a CSF representative reached out to ask if I would speak at CSF's 20th anniversary gala in May, which honored CSF's co-founders and long-time supporters. I was elated and immediately agreed. Attending the gala allowed me to enrich my relationship with CSF. I enjoyed speaking to the CEO, Darla Romfo, supporters of CSF, and my fellow CSF alumni.
A few months later, I received an acceptance letter from the City College of New York's film program and began planning my move to the East Coast. I kept in touch with Darla, and to my surprise, she offered me a part-time job at CSF's New York office while I attend school. I've been working part-time for CSF as a Communications and Development Assistant ever since.
Earlier this year, I stayed late in the office to meet one of CSF's supporters. After learning that my major is film, she referred me to an internship program with The Moving Picture Institute (MPI). MPI offered me summer internships in Los Angeles with The Academy of Motion Picture Arts and Sciences' Gold Program, a diversity inclusion initiative, and Millennium Media's development and sales departments.
At Millennium Media, in development, I learned to analyze scripts, write coverage, and give comprehensive feedback on character development, plot structure, and commerciality. In sales, I learned how to use Filmtrack and run sales reports for both domestic and international territories. I learned the independent film business model and the role of film festival markets in funding films.
The Academy Gold internship opened my eyes to a different side of the entertainment industry, introducing me to professionals who are rooting for my success. We toured Warner Bros., Disney, and Paramount Studios. The Academy staff scheduled weekly panels with industry experts to give us insights into the workings of Hollywood. In addition to the great programming, we attended exclusive screenings at the Samuel Goldwyn Theatre, usually reserved for Academy members.
Besides my two internships, I started an event series called Social Sunday, where I planned and organized social events around Los Angeles for my fellow Academy Gold interns to attend and network with each other. Because of my immersive involvement in the program, the Academy asked me to give a speech at the program's closing ceremony. As I wrote my speech, I realized my story had come full circle. If it weren't for CSF, I wouldn't be in this program, not only because of the scholarship I received as a child, but because of their continued involvement and support of an alumna who's well into her adulthood.
Overall, this summer was a dream come true. I'm grateful for CSF and all the supporters who make this scholarship possible.