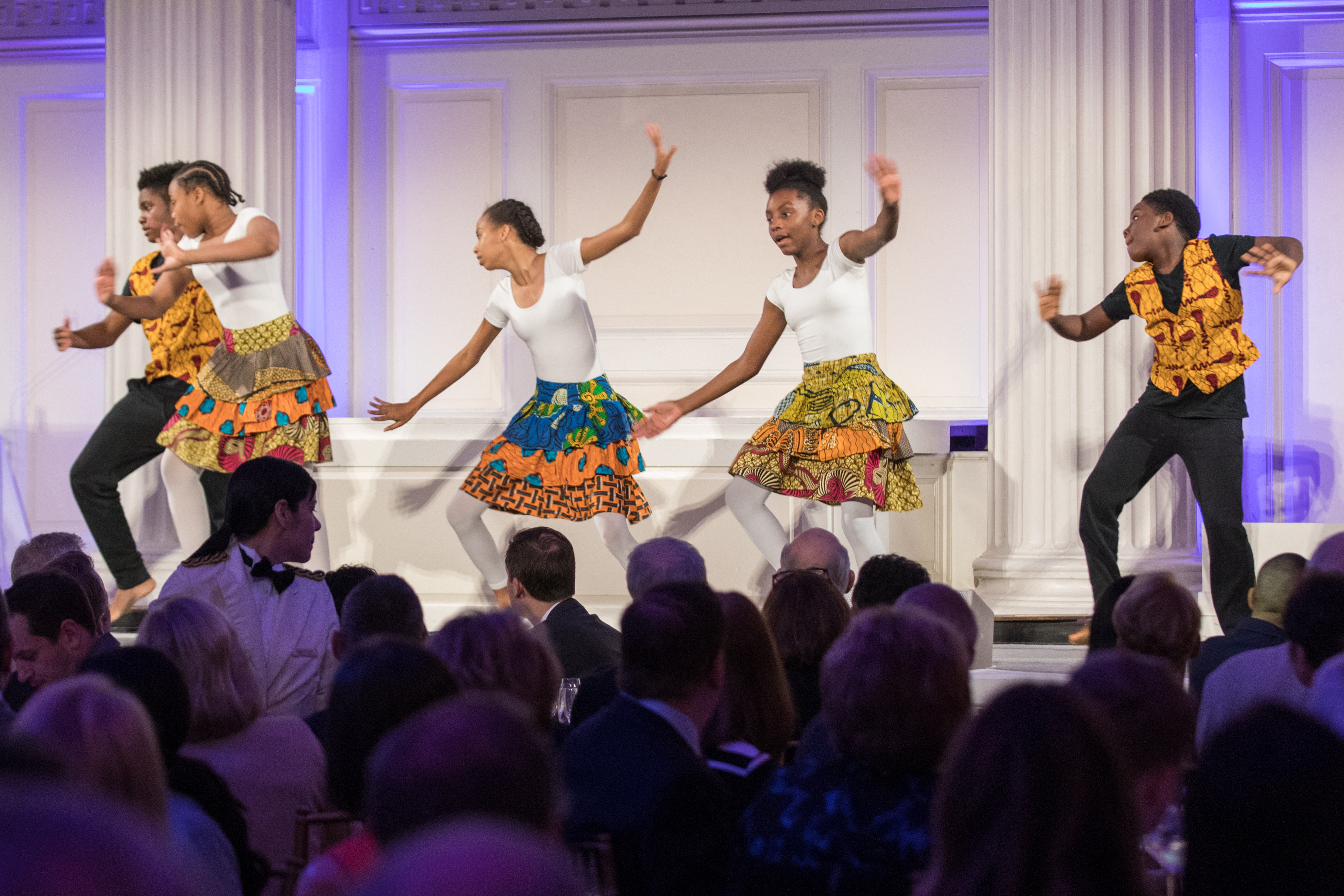 In May, Children's Scholarship Fund (CSF) marked its 20th anniversary with its first-ever gala, paying tribute to co-founders Ted Forstmann and John Walton and the 166,000 children who have benefitted from CSF scholarships, as well as honoring prominent philanthropists and business leaders Eli Broad and Julian Robertson as this year's Champions for Children.
Talented student and alumni artists set a celebratory tone, with the choir of Sacred Heart School singing "We Shall Overcome" and "Amazing Grace," while students from The Learning Tree Cultural Preparatory School shook things up with African drumming and dancing, and CSF Los Angeles Alumna Nicole Serrato performed an original poem. As CSF President Darla Romfo noted, "Each of these children is a testament to the work of our founders and honorees."
Guests heard from CSF Chair Mike McCurry and board member Remy Trafelet, and Ted Forstmann's son, Siya Madikane, and Darla Romfo introduced video tributes to CSF's co-founders. Reflecting on his father's legacy, Siya said, "While many know my father because of his success in business, what made Ted special to my brother and me was the fact that he was always much more proud of the lives of children he helped give opportunities to." Darla called John Walton "an inspirational leader embodying the characteristics of a servant leader – truly humble, always more concerned about others than he was about himself, never needing to take credit, and truly comfortable in his own skin."
Nicole Serrato and CSF Advisory Board member Stedman Graham presented Eli Broad with his Champion for Children award, noting that Mr. Broad and his wife, Edythe, have donated more than $4 billion to support the public good in education, sciences, and the arts, and were major supporters of CSF scholarships in Los Angeles.
"I believe if my friends Ted Forstmann and John Walton were here tonight, they'd be incredibly proud," Mr. Broad said in his acceptance speech. "Edye and I are humbled to support the vision of Ted and John and the dreams of the students."
Honoree Julian Robertson was introduced by CSF-Charlotte alumnus and New York City Ballet corps member Silas Farley with his parents, Mark and Falinda Farley. Silas noted Mr. Robertson's leadership of CSF-Charlotte and his foundation's generous support of education, the environment, and medical research.
Accepting his award, Mr. Robertson fondly recalled his friendships with CSF's co-founders and fellow honoree Eli Broad, calling CSF "a powerful force in education."
The evening ended with a toast led by CSF alumni and a final song, sending everyone home on a high note. One guest pronounced the gala "magical," with many praising everything from the delicious food and tasteful décor to the touching tributes and heartwarming success stories of CSF Scholars and alumni. We think Ted and John would have been very pleased and are grateful we had the opportunity to pay them a fitting tribute.