On Wednesday, April 5th, CSF celebrated our fourth annual CSF Champions for Children event, honoring Richard R. Hough III, Chairman and CEO of Silvercrest Asset Management Group, and New York State Senator Chris Jacobs.
As guests arrived, they were treated to a performance by the choir of Our Lady of Lourdes School in Harlem, where many students are CSF Scholars. After the choir's rendition of Great American Songbook classics, Douglas Dewey, CSF's Founding Executive Vice President and managing partner at Evercore Wealth Management, took over as master of ceremonies for the evening.
The evening's first guest speakers were Ayana Rich and Melissa Osborne, two mothers whose sons use CSF scholarships to attend Trey Whitfield School in East New York. When Ms. Rich first visited Trey Whitfield, she knew it was the right fit for her son, Ethan, and the school continues to feel like a home away from home for both of them.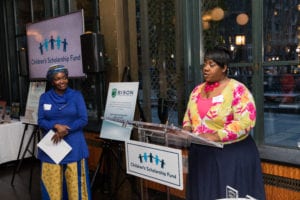 Ms. Rich shared her gratitude for Ethan's CSF scholarship, saying, "To know there is someone else who values my son's education so much that they would invest in his future is wonderful. I couldn't do this without you."
Ms. Osborne's son, Jaborei, has had a similarly positive experience at Trey Whitfield. Jaborei was reading before kindergarten, and Ms. Osborne's priority was to find a school that would challenge him in a caring yet disciplined environment. "As a working mother, it means the world to me to know that I can bring my child to school and not have to worry about his safety or whether or not he's receiving the education he needs," she shared.
Senator Jacobs, who co-founded CSF's Buffalo partner program, the BISON Children's Scholarship Fund, was detained by legislative business in Albany, and appeared at the event on video, noting, "What we are really celebrating tonight is CSF and BISON helping low-income children escape poverty through the most powerful tool we can make available to them – a quality education. Simply put, we have and we are changing lives." Senator Jacobs' mother, Pam Jacobs, and BISON Executive Director Amy Popadick were on hand to accept his award by proxy.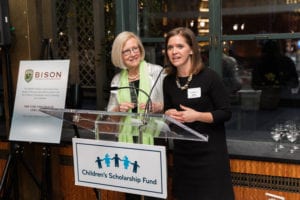 In accepting his Champions award, Rick Hough recalled the early days of CSF, when he served as its first National Program Director. He spoke about how much it meant to him to know that more than 158,000 children have benefited from scholarships since its inception. Rick pointed out that earlier in the evening he had met Yvonne Peña, who used one of the very first CSF scholarships as a seventh-grader in 1999, and whose name he remembered among the thousands of others awarded scholarships in the initial CSF lottery. Yvonne now works for a social services non-profit, and was the first in her family to graduate from college and earn a masters degree!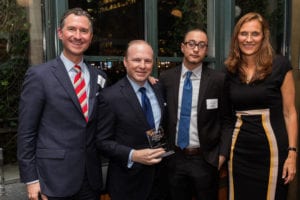 All proceeds from the event will support CSF scholarships in New York City, where more than 7,500 CSF Scholars attend schools that help them reach their full potential.
Thank you to our honorees, sponsors, in-kind donors, the students and staff at Our Lady of Lourdes School, and all our guests for a wonderful evening. For more photos from the event, visit the CSF Facebook page.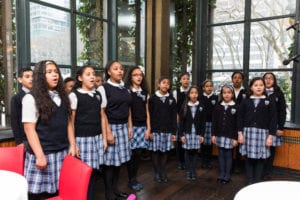 Silver Sponsors
Tony and Christie de Nicola
Pachulski Stang Ziehl & Jones LLP
Silvercrest Asset Management
Bronze Sponsors
American Federation for Children
Rick and Vera Hough
Richard S. Pechter
Friend Sponsors
BISON Children's Scholarship Fund
Fiera Capital
Wilmot H. Kidd
Pershing Advisor Solutions
Mr. and Mrs. William Vrattos
Photos by: Jenna Bascom