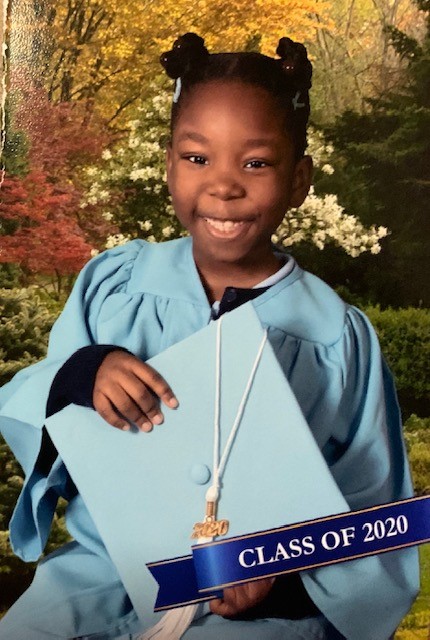 Last September when Elaine started Kindergarten, her mom, also called Elaine, sent us photos of her daughter beaming on the first day of school, writing, "Elaine is new to the CSF family. Her scholarship allowed our homeless situation to not impede her getting a quality education. She is excited to ride the school bus, make new friends, and learn new things so she can be a brilliant comedian and rock star!"
Elaine's mom told us she and her daughter ended up temporarily living in a homeless shelter after a string of bad luck. A social worker who's pursuing her master's degree, she learned about CSF while touring a school she didn't think she could afford. The extra financial help from CSF made it possible to enroll Elaine. Throughout the school year, Elaine's mom has been impressed with her advancement, regularly sharing progress reports.
"I love the school. She's already reading," she told us. "I find it amazing that at the end of the last school year she was struggling just knowing all her letters and now she's reading words."
In mid-March, everything changed when the pandemic hit and Elaine's school went online. At first, Elaine was alternating between her mother's work computer (when it was available) and a tablet that didn't allow her to access Google Classroom. Thanks to generous donors to CSF's Stay in School Fund, Elaine got a new laptop, making life easier for both mom and daughter.
Elaine misses her friends and teachers. And her grandmother and 88-year-old great-grandfather, once daily fixtures in her life, are now only seen on weekly Zoom calls and occasional socially distant outdoor visits – not quite enough for a six-year-old used to hugging her family!
Still, Elaine's mom reports there are some positives to their new reality, including cookie-baking sessions and becoming more hands-on with Elaine's schooling. "History is my favorite part. I'm teaching her different stuff they don't really cover in Kindergarten," she told us.
While Elaine won't get to enjoy an in-person Kindergarten graduation, she's looking forward to a bright future, including possible careers in rock and roll or social work like her mom. As her mom tells us, "I'm not sure what she wants to do yet, but I know the sky's the limit for her."