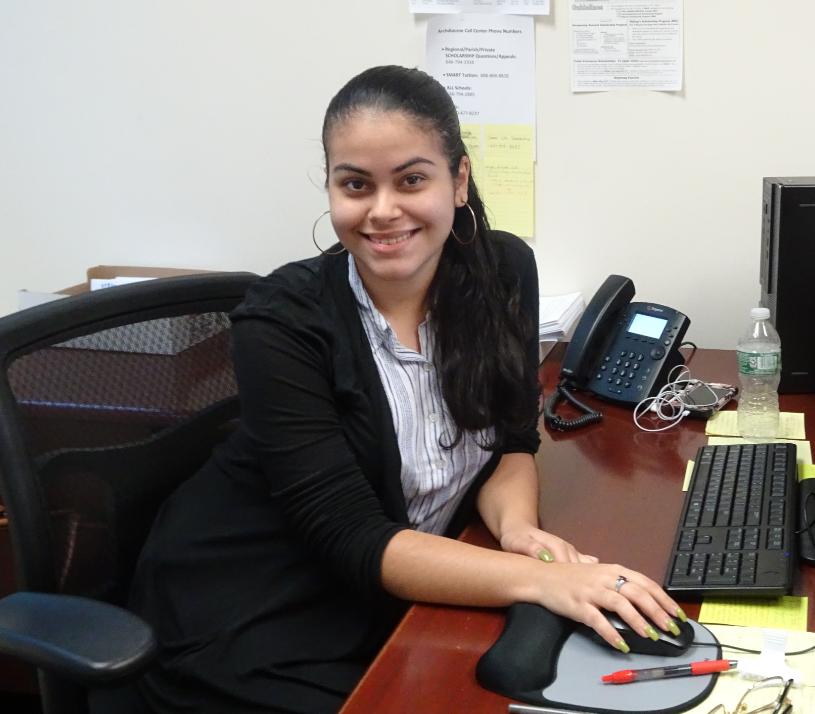 Elementary School: Christ the King School, Bronx (Valedictorian)
High School: Academy of Mount St. Ursula (Valedictorian)
College: Stony Brook University '20, psychology major
Her CSF experience: I actually loved the public school I was at prior to Christ the King, but it only went up to the third grade. It was small but academically good. When we needed to find a new school, my mom really wanted me to attend a private school, and Christ the King was close to home. We also attend the church so it was an easy fit. It was a great experience and I graduated as a Valedictorian. I even went back during high school to do my service hours there and assisted in the afterschool program. One of my best friends is a friend I met at Christ the King. It really prepped me for success and for working hard to achieve.
Current studies: Right now,I am studying psychology (concentrating in sociology) and minoring in women's studies. Through my sociology concentration, I took some classes in gender and race, they are so relevant in this culture and the classes were very interesting.
On choosing Stony Brook: I wanted to go somewhere that was academically challenging where I would have great resources. Location was a factor too. I wanted to stay close enough to see my family, but far enough so I could live on campus and have some independence. I received scholarships and financial aid through Stony Brook, and I ended up rooming with my best friend from high school, which has worked out well. The school is also a liberal and accepting place. The campus and the students are great.
Special honors and extracurriculars: I graduated from high school as a Valedictorian. In college, I am part of the Teacher's Assistant (TA) program. I also participate in the Caribbean/African student fashion shows, and I am a team leader on the belly dance team at school as well!\
Future plans: I want to go to grad school and become a teacher. I had to TA within our University Scholars program and work with new students to help them acclimate to college. I really liked interacting with the students.
Motivation: My parents motivate me. They are gung-ho about me finishing my education and they have always been so supportive. Growing up, my parents always said, "Education will open doors for you." So I want to get as far as I can in my studies so I can succeed.
My family is from the Bronx and I am an only daughter (I have two half siblings from my dad's first marriage. Both of my parents are Puerto Rican. My dad was born there and never finished high school. My mom was born in the Bronx and finished high school but never graduated from college. Once I get through college, I will be the first to have gotten my college degree and once I get my master's, I will be the first one in the family to do that as well.
Advice for younger students: Always strive for what you want and stay true to yourself. Do everything you can do to develop good habits and morals so they are instilled in you. Succeed in your passion and make yourself proud.
Gratitude for CSF supporters: From the bottom of my heart, thank you so much. Having the scholarship opened up doors and made it possible for me to succeed and shape the student I am, the person I am, and my life. Thank you for opening up new chapters in my life.