Khloe Foster is eight years old and looking forward to entering third grade as a CSF Scholar this fall at New Grace Education Center. Private school will be a new experience for Khloe, but for her mother, Natasha, it represents a dream she's had for some time.
"I've always wanted for Khloe to go to a private school, somewhere with a smaller setting where she'll get the extra attention she needs. She has an IEP and even though they are saying she's okay for general education, I still think she needs that one-on-one attention," Natasha told us.
Last spring, Khloe, Natasha, and her husband relocated from Newark, New Jersey to East New York in Brooklyn. Originally from Jamaica, Natasha is expecting her second child early this fall and wanted to be closer to family members nearby. While the move was relatively easy, one part was quite disruptive: Khloe's transfer from her New Jersey school to her zoned neighborhood school. There, Khloe experienced bullying which distracted her from schoolwork.
"There were days she would come home and she'd complain kids would pick on her, she'd cry, kids kicked her, they pushed her," Natasha said. "I felt like when she came from New Jersey, instead of improving, she started to go backwards."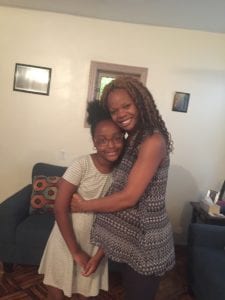 As a result, Natasha decided to seek out alternatives for the new school year. The family lives in NYC School District #19, which has a large number of underperforming schools. She researched and applied to local charter schools, but when some friends introduced her to New Grace, she felt an instant connection and knew it was the right place for Khloe.
"You go into New Grace…and you get a happy feeling. From the principal all the way down, they're all nice people," Natasha shared. "I like the fact that the class sizes are small. It's a Christian school, and I'm a Christian. Everyone is like a family there. I feel like I'm at home at the school."
Khloe got a taste of New Grace this summer when she attended the school's summer camp, and now she's excited about third grade. Her favorite subject is art, and she talks about following in her aunt's footsteps to become a hairdresser. Natasha's hopes for her are more immediate, and universal.
"I'm hoping that at least at the end of third grade, she'll be way ahead of where she is now and achieve more academically," she said. "That's what all parents want, which is why they try to make that sacrifice to send them to a good school. Especially if the parent didn't get that opportunity for themselves, they want the best for their kids."