Story by CSF Alumna Shaiann Frazier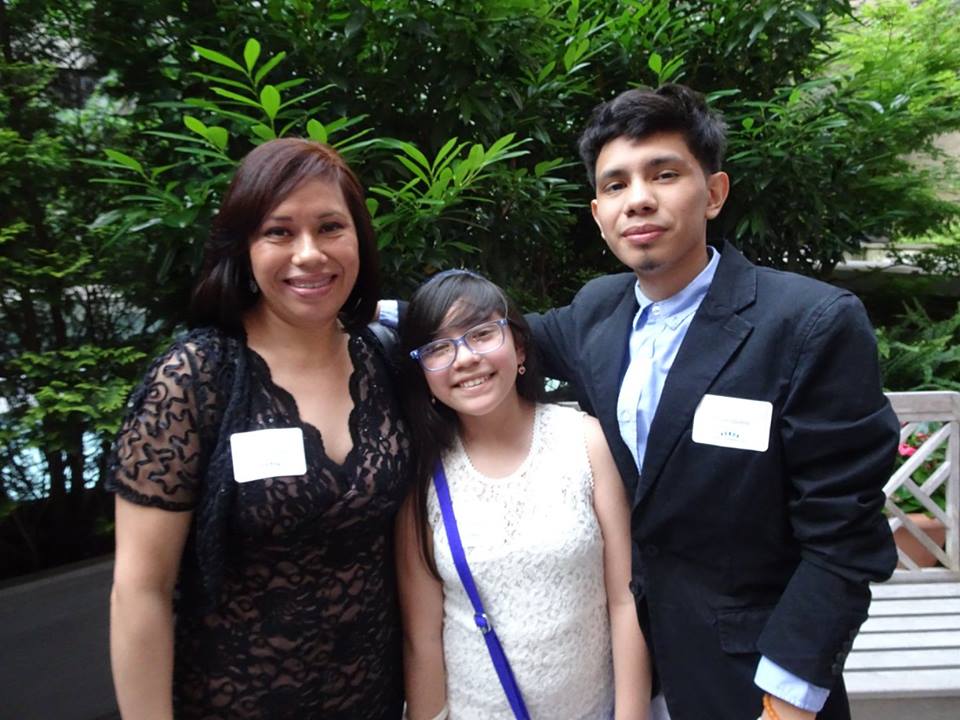 CSF Alumnus Kevin is the first in his family to graduate from high school and attend college. This fall, he is a freshman at Iona College studying Computer Science.
A son of Mexican immigrants, Kevin is determined to make his parents proud and to relieve their financial worries, telling us, "I want to prove people wrong, the people who doubted that I would make it this far."
Knowing that his parents risked their lives to cross the border in search for a better life in America, Kevin understands the importance of making the most of his educational opportunities. He consistently received first and second honors throughout his four years at All Hallows High School and received national awards for Math and Language Arts.
He also developed a desire to give back. Kevin was a member of the National Hispanic Institute, where he engaged in debates and public speaking to find solutions for the Hispanic American community. In addition, he participated in a volunteer trip to Florida to help build homes for immigrants. Now Kevin has taken his dedication to community service to college. He was selected by Iona to participate in a two-day volunteer group called Get Moving, preparing toiletries, food, and clothing for the homeless in the city.
But before the rainbow there's always a storm. Prior to receiving a CSF scholarship, Kevin attended a neighborhood school that did little to motivate him academically. Kevin's mom, Saray, told us: "The kids were rough and Kevin is shy and sensitive. There was little discipline and the teachers were not encouraging. I didn't know what to do until I heard about Sacred Heart School and the scholarship through a neighbor."
When Kevin initially enrolled into Sacred Heart School in the fifth grade, he was already behind. But the teachers took time to tutor him and get him up to speed. To Saray's surprise, Kevin's grades kept improving and soon enough he was earning A's and B's. She then realized, "It's not the child, it's the environment. Some parents think that their kids are just not academic and there's nothing you can do about it. But I keep telling them, Kevin went from D's and failing to A's and B's and just enjoying school. There was just a huge difference."
And when it was time for Kevin's little sister, Melanie, to start school, Saray did not hesitate to apply for another CSF scholarship to send her to Sacred Heart School. Melanie is now entering the fourth grade and excelling.
After his positive experience at Sacred Heart School, Kevin enrolled in All Hallows High School, which was "exciting" as he recalls. There, he was exposed to a new world and many new opportunities.
If Kevin could give younger students advice, he would tell them, "Have an open mind. You should take any opportunities that come your way. Sometimes there are opportunities and we don't want to take them. You have to try new things."
"The scholarship was a turning point for me. Without it, I would have just gone to a school in my neighborhood and maybe would have dropped out or not have made it to college," Kevin shared. He went on to discuss the importance of scholarships, emphasizing that scholarships motivate students to live up to higher expectations and standards and succeed.
Once he graduates from Iona College, Kevin hopes to earn a Master's in Computer Science. His dream to create his own video games and work for a high-end game company is becoming more apparent.
"I see a promising future for myself being able to do what makes me happy," he told us.
Shaiann Frazier is a junior at Lehman College in the Bronx, where she is majoring in journalism. A CSF Alumna, she also served as a summer intern at CSF.