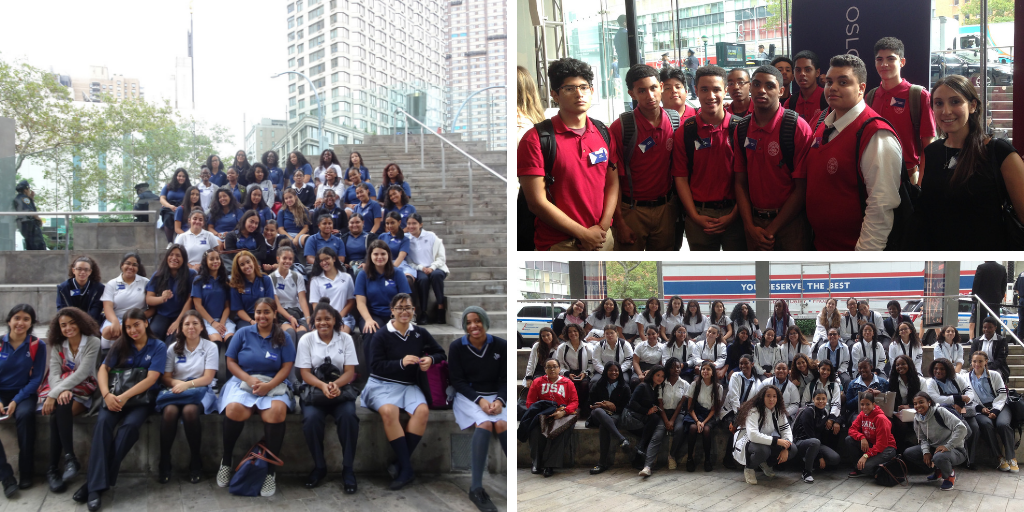 CSF was delighted to take more than 120 students, including many CSF alumni, to Lincoln Center earlier this week for the second annual Oslo Freedom Forum in New York. Students from La Salle Academy, St. Jean Baptiste High School, and Cathedral High School joined several CSF alums now in college for the day-long human rights conference featuring powerful stories from activists from China, Russia, Afghanistan, Turkey, North Korea, Venezuela, and many other countries.
As Areli T. noted, "With every story I heard, my understanding of freedom grew."
Many students were struck by the story of North Korean defector Yeonmi Park, who said the biased view of the United States that was instilled in her at school was first challenged when she saw a pirate copy of the movie Titanic. A few years later, she and her mother made a harrowing escape from North Korea, and she is now married with a baby and studying at Columbia University. Alexandria P. told us, "For those of us who are fortunate enough to live in the free world, we do not realize how something as simple as a film can spark change."
Farida Nabourema, who co-founded the Faure Must Go movement to unseat Togo's oppressive leader, also inspired many of the students. Researching Nabourema after hearing her in person, Miriam C. found out more about how fearless the Togolese activist has been from a young age: "It was amazing to see a black woman stand up against the government. She is putting her own life and her family's life in danger in order to fight for what is right." Rossena P. was also impressed, telling us, "One day, Farida posted all the phone numbers of the parliament officials, encouraging people to hold the government accountable for their actions. The movement has since then grown, despite the consequences that people face for speaking out."
But of all the speakers, teenager Fatemah Qaderyan from Afghanistan was the one with whom the students most identified. Fatemah told her story of leading an all-girls robotics team that almost didn't make it to an international championship in Washington, DC last year after they were initially denied visas, and beating the odds by excelling in math and science in a country where only half of all girls go to school. Tragically, shortly after her return from Washington, Fatemah's father was killed in a suicide bombing.
Miriam C. shared: "Fatemah's speech really inspired me because through all her challenges and obstacles, she continued to persevere. It really hit me when she said that her father was taken and killed by ISIS. I honestly could not hold the tears back. It broke my heart because I, too, am very close with my father and cannot imagine my life without him. She is a role model of mine and a great example of what a leader is."
Maria H. noted: "Due to our similarity in age and values, I was able to identify with Fatemah. Her bravery and initiative surprised me and made me realize that she has to fight for something that is simply handed to me in America."
Reflecting on what she learned from the day, Areli T. said: "In my everyday life, I don't feel that I do enough to connect with others, but being at the Forum and hearing Fatemah, I realized that the responsibility to fight and take a stand for those in the world whose rights are violated falls on my shoulders, in fact, everyone's shoulders."
Alexandria P. added: "I appreciate being able to attend the Oslo Freedom Forum as it educates those attending about the true nature of controlling governments. And being educated about these violations of human rights is the only way to put a stop to it."
Maria H. shared with many students a desire to do more to help now that their awareness has been raised: "The Oslo Freedom Forum causes me to put life into perspective. All the 'basic' human rights that are handed to me as a citizen of the United States have to be fought for by billions of other people around the world. This fight for freedom, justice, peace, and prosperity has cost the lives of many people, including some speakers from the OFF. These people who stood on the stage were risking their lives just to communicate their struggle under authoritarian regimes. The speakers leave the audience with a lasting urge to help those in turmoil to be a voice for justice, and to create awareness of the unjust and brutal practices of these rulers."
We are extremely grateful to the Oslo Freedom Forum and Human Rights Foundation for inviting CSF alumni to participate. As their reflections show, the students' eyes have been opened to the human rights violations that take place in so many countries, but they are also inspired by the perseverance and human flourishing of the activist speakers despite the injustices they continue to battle.
You can watch video presentations from the Oslo Freedom Forum in New York here.