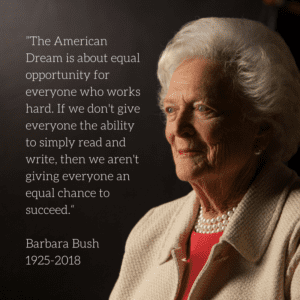 All of us at Children's Scholarship Fund (CSF) are saddened to note the passing of former First Lady Barbara Bush this week.
Through her important work with the Barbara Bush Foundation for Family Literacy, Mrs. Bush was a champion of children and families, expanding both early and adult literacy. As she said, "The American Dream is about equal opportunity for everyone who works hard. If we don't give everyone the ability to simply read and write, then we aren't giving everyone an equal chance to succeed."
Mrs. Bush was a dear friend to CSF. In a letter agreeing to join our founding advisory board in 1998, she wrote, "The Fund will certainly open the door of opportunity to children who otherwise would not have a chance, and moreover, the Fund has the necessary leadership and financial support to make a real difference." We are grateful for her loyal support throughout the past two decades; earlier this year, she agreed to join the Honorary Host Committee for CSF's 20th Anniversary Gala.
We offer our sincere condolences to former President George H. W. Bush and all of Mrs. Bush's children, grandchildren, and great-grandchildren. She was an inspiration, and she leaves behind a rich legacy that will continue to be felt for years to come.