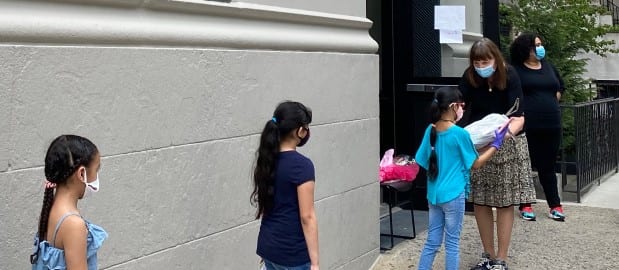 Note: This article about CSF participating school Our Lady of Lourdes in Harlem was written by CSF Alumna Nicole Serrato and published in the Manhattan Times on July 9, 2020.
By Nicole Serrato
Suzanne Kaszynski was back at school earlier this month.
Sporting a face mask, the principal of Our Lady of Lourdes School in Harlem was on site to return student's belongings as the year came to its end. Families came in and out throughout the day, expressing their gratitude and sending air hugs.
Like many educators, the last few months required quick adaptation to online learning. The staff at Our Lady of Lourdes focused their efforts on keeping a sense of structure for the students while helping them with time management.
"In the morning before school, we usually gather in the auditorium for morning prayer. To provide the children with some normalcy, I recorded a prayer every morning at 7:30 a.m. and teachers would post the video in their Google Classroom so students could access it."
While most of the teachers had used Google Classroom prior to the pandemic, teaching live in Zoom meeting classes proved to be a learning curve. The Manhattan Regional Office of the Archdiocese of New York provided professional development on Zoom and other online resources. Together, the faculty and staff explored different platforms and tools to educate their students.
Continue reading the rest of the article at the Manhattan Times.