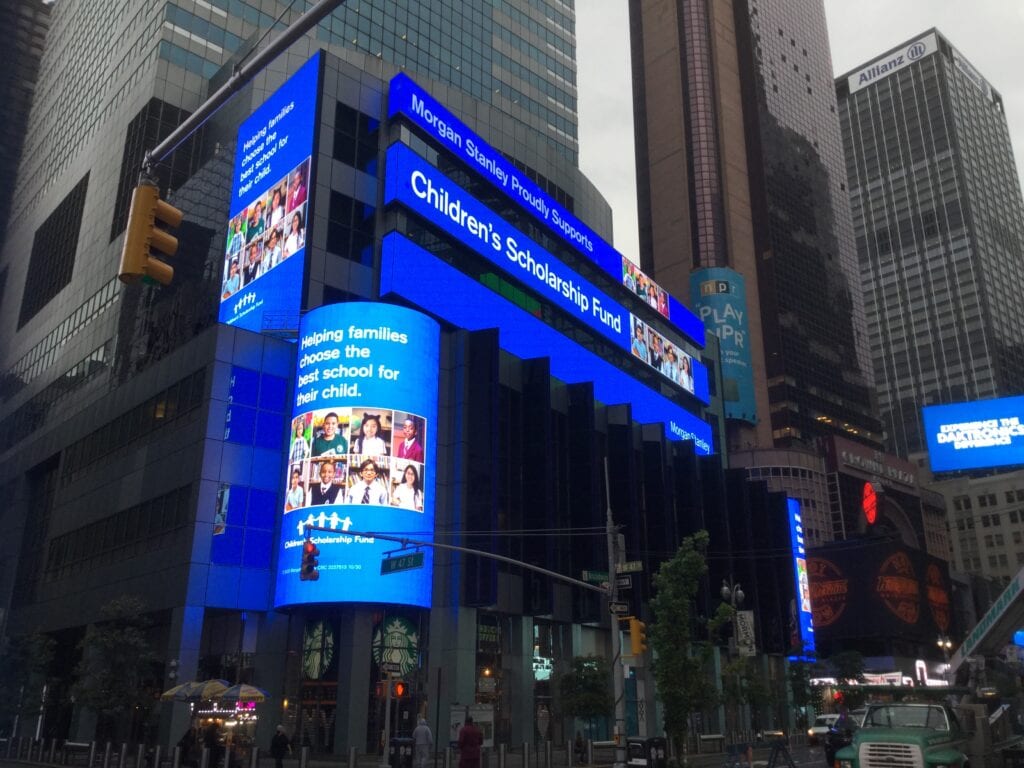 Thanks to Morgan Stanley, CSF Scholars and alumni are lighting up Times Square! All through October, a message featuring CSF will play several times each hour on the signage at Morgan Stanley's global headquarters as part of the financial firm's Lights on Broadway program, which helps build awareness for the non-profits the company supports.

Watch this morning's official premiere on our Facebook page!

The signage invites people to "join CSF," featuring photographs of current CSF Scholars and alumni. It is breathtaking to see our message of hope and opportunity broadcast at the crossroads of the world!

Throughout the years, Morgan Stanley has been a valued partner to CSF, and we are especially appreciative of this opportunity. As well as financial support, Morgan Stanley volunteers have donated their time and expertise to CSF Scholars and alumni in the form of financial literacy and resume-building workshops, literacy programs, career workshops, and supply drives for CSF participating schools. Special thanks to Priscilla Habeeb Sankar, VP, Legal and Compliance Division, who has served as Co-Chair of CSF's Young Leaders Board, and Jason Tejada, VP, Municipal Securities Division, who is a CSF alumnus and member of CSF's President's Council.

If you happen to be in Times Square this month, don't forget to look for CSF on the Morgan Stanley signage at 1585 Broadway between West 47th and West 48th Streets. While you're there, take a photo and share with the hashtag #JoinCSF to spread the word! You can learn more at joincsf.org.